No matter how long you've been doing content marketing, you've got more to learn. We all do. And not just because there's always room for growth, but also because the industry keeps changing.
Every year brings new trends, technologies, and tips. It's hard to keep up.
But every year also brings us the original research from MarketingProfs and the Content Marketing Institute that takes the industry's pulse and packages it for us in a collection of useful insights.
While the full report is 44 pages, there are five main takeaways I think every business doing content marketing can benefit from.
Fully commit.
Content marketing isn't something you can dip your toe in and hope for the best. It requires a significant investment in time, money, and energy. And the research shows that commitment is key to content marketing success.
Of the businesses that said their content marketing was successful 93% say their company is at least very committed to content marketing, and 92% say there's buy-in at the highest level of the company.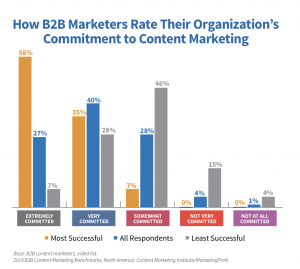 A good content marketing strategy includes devoting time to:
Understanding your audience
Developing a strong strategy
Creating high-quality content
Actively promoting your content
Tracking how it performs
It also involves a financial investment in talent and technology. All of it adds up. If your company's lukewarm about the idea of doing all that and only does a little, they're unlikely to see much of a result.
But if you do fully commit, you'll gain more customers and build better relationships with them. 76% of successful content marketers say it helps them nurture leads. 73% say content marketing inspires more customer loyalty, and a full 96% say their audiences view them as a trusted resource.
Document your content strategy.
This insight isn't new to this year's research. Every year, the research finds that a content strategy is one of the main keys to content marketing success. It helps you organize your efforts and make sure you're putting your time and budget toward the content marketing tasks most likely to pay off.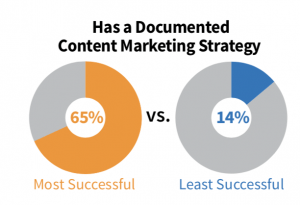 This year's study found a couple of notable additional benefits. 81% of respondents said that having a documented strategy aligned their team around common goals. And 81% said it makes it easy to decide the types of content to develop.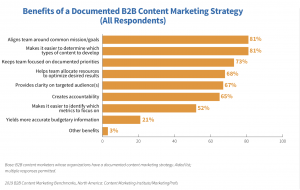 With so many different channels, tactics, and content formats to consider, sitting down with your team to develop clear content strategy can help you all get on the same page and make sure your efforts all support each other. And writing it all down gives you something to refer back to throughout the year to stay on track.
Talk to your customers.
Content marketers devote a lot of time and energy to trying to get inside the heads of our target audience. The only way to create content that will connect with the people we want to reach is to make sure we're basing it on what they care about. That's content marketing 101.
Which is why it's a little surprising that only 42% of content marketers are taking time to actually talk to customers to understand their needs. That's a huge missed opportunity!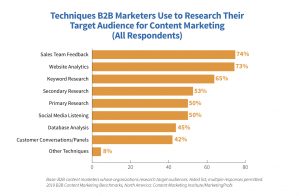 This was also one of Margaret Magnarelli's top tips in her talk at Content Marketing World on being an empathetic communicator. Before you can empathize with your audience, you have to listen to what they have to say.  And really listen. Don't interrupt or try to steer the conversation. Sit with them and listen to their complaints, their pain points, their experiences, and the way they say it all.
Instead (or in addition to) investing in social listening or audience research tools, invite a few of your customers in for a conversation and spend time listening.
Then revisit your content strategy and look for ways to incorporate what you learned. Rework your personas based on the new information. And get your insights in front of everyone on your team so they can keep the audience's actual concerns top of mind when creating content moving forward.
Start using paid distribution for your content.
You may already use paid advertising channels to promote your products or services, but fewer businesses think to spend money promoting their content in the same way.
Every year, as more businesses get in the content marketing game, it gets harder to get your audience to notice your content to begin with, much less engage with it. Creating great content doesn't accomplish much unless people actually see it.
For that, paid distribution methods have become an important part of the content marketing equation. 71% of the most successful content marketers use paid distribution methods to get their content to new audiences.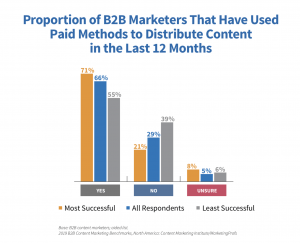 Paid distribution includes:
Investing in sponsored content on social media
Paying for you content to be highlighted on other sites or in other company's emails
Native advertising
If you're disappointed with how few people are finding the content you work so hard on, add paid distribution to your content marketing budget.
Have a customer content marketing plan.
Marketers tend to think of their job as bringing in and nurturing leads. Once a lead converts into a customer, they can fall off our radar. But content marketing is a rich opportunity for strengthening the relationship you have with your current customers—which can really pay off. Increasing customer retention rates can increase profits by anywhere from 25-95%.
High-performing content marketers focus on their customers as well as leads. 73% say they use their content marketing to successfully build loyalty with their customers. But as of now, that's only true of the best content marketing programs. Out of the full number of marketers surveyed, the total is only 54%.
That means for many people reading this, customer content marketing is currently a missed opportunity. If you develop a content marketing plan now that helps you nurture your relationships with customers, you can start to see some of the improved results that top content marketers already enjoy.
The data will only help you if you put it to use. Let the insights from the research guide you toward a better (documented) strategy that enables you to bridge the gap between your business and the content marketers at the top.