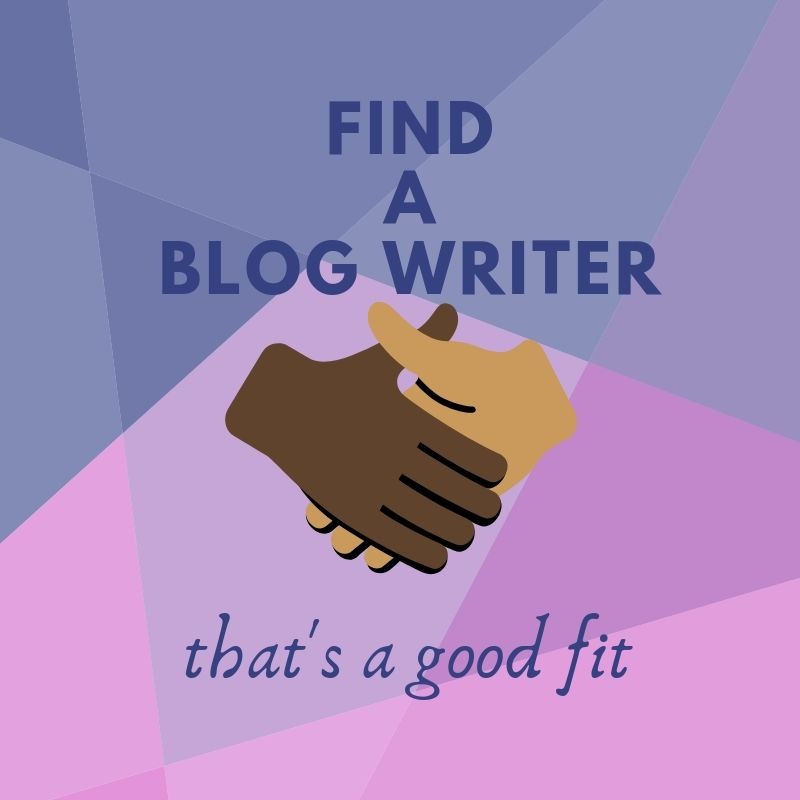 You know that content marketing is worth it. But boy do you find it hard to keep up with the constant, ongoing need to produce new content. And good content at that.
You're not alone. In a survey of over 1,000 content marketers, Curata found that creating enough content on a regular basis was the second biggest challenge marketers named. Writing useful blog posts that are well researched, accurate, and substantial takes a lot of work. And internal marketing teams can quickly get overtaxed.

One possible solution is hiring a freelance blog writer. Freelance bloggers who know content marketing and SEO can deliver content that's well written and crafted to meet your business goals. But finding a good freelance blog writer is hard. And what's even harder—and just as important—is finding a good freelance blog writer that's a fit for how you work.
Why Fit is So Important When Hiring a Freelance Blog Writer
In years of working as a freelancer, I've learned that finding and working with new clients is a bit like dating. The first few interactions, including early assignments, are often a test in compatibility. When a client and I aren't compatible in our working styles—even if I like the business or my main contact there is really nice—it won't be a good working experience.

Taking the time to find a content marketing writer that's a good fit for your company's preferences and goals, instead of just one that's a good writer, will make your life easier in a number of ways:
The process of working with them will go more smoothly.
You're far less likely to deal with multiple rounds of edits.
You won't have as much stress from dealing with minor conflicts or misunderstandings.
And by getting it right from early on, you can save yourself the trouble of having to start the search all over again after a failed start.
How to Find a Good Freelance Blog Writer
Before you can find the right blogger for you, you need to figure out where to find a good freelance writer to begin with.
I get it, it's hard. And if you've tried job boards like Upwork and Fiverr, you may be feeling hopeless after getting a flood of responses from writers that don't look very good.
That's because job sites like those are full of low-paying gigs, so experienced writers who are picky about finding good clients mostly don't bother with them.
1. Start with referrals and recommendations.
Before you go to any online options, start asking around. Between networking events, conferences, or even past jobs, most marketers have plenty of other friends in the industry. One of them probably knows a good writer or two. Send out some emails or LinkedIn messages. If you're in a good professional Facebook group or Slack, ask there.

If you already have a freelance blog writer you're working with and have realized it's time to find more, ask them as well. Freelancers often know other freelancers. And most of us like helping each other out when given the opportunity, especially if it also helps out a client.

2. Pay attention to bylines on blogs you like.
If recommendations didn't do the trick, think about the blogs in your industry you like the most. Pull up some of the posts you like and scroll down to the bottom to see if there's an author bio. If the writer is a freelancer, often it will say so right in the bio and it may even include a link back to their website. For example: this is what my bio looks like on one client's site.

If there's a name, but not a bio, do a few minutes of sleuthing to see if you can find the writer on Google or social media. Freelancers usually have both a website and a social presence, and provide information that makes getting in touch easy. And if the person you contact says they're overbooked or isn't interested in the type of project you offer, you can go back to #1 and ask them if they have any colleagues they can recommend.
3. Search on LinkedIn.
This is one of the exact things the professional social media networking site is for. When you search the site for freelance bloggers, you'll see writers who are connected to people you know first. That means you can vet them by seeing who you know in common and checking with your shared connection to see what they think of the writer.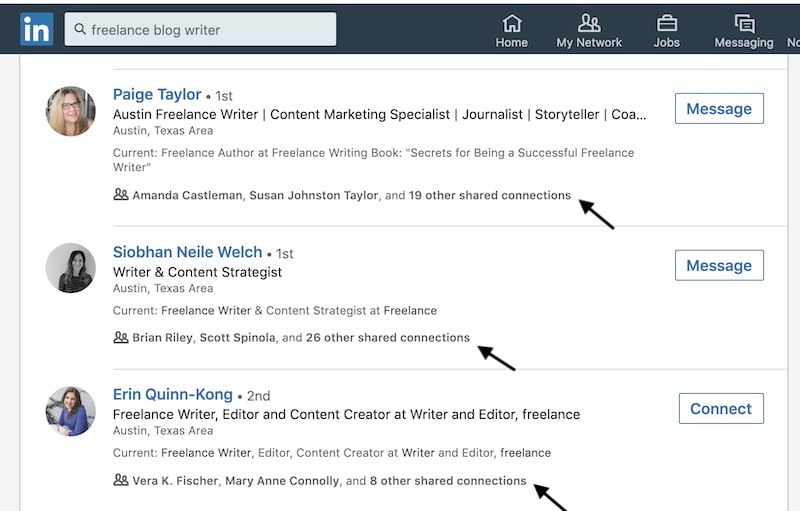 Their LinkedIn profile will share some information about their qualifications and experience, and may even include some writing samples. I recommend also looking for a link to their website and reviewing the information there before contacting them.

4. Try good, 'ol Google.
If those steps haven't yielded the results you want, time to turn to the main place we all go to solve our problems. Here's the thing to know about using Google to find a freelance blog writer: you may have to do some digging to find the websites of freelancers.

If you do a search for terms like "freelance copywriter" or "freelance blog writer," you'll find a lot of results that are either the aforementioned low-quality job boards, or resources on how to become a freelance writer. There are two main ways to get past this issue:
Be willing to do some scrolling and clicking to the next page to find the writers' websites (they are there eventually).
Get more specific in your search terms. If you search by niche ("B2B tech freelance copywriter" or " freelance finance blogger," or narrow it to locals ("austin copywriter") sometimes you'll get to writer pages faster.
One benefit of this method is that you can trust any writer that shows up in your search knows something about content marketing and SEO. Another is that it gets you straight to the writer website, where you can start checking out their samples and qualifications.
5. If all else fails, create a job ad on a high-quality site.
All the other tactics on this list will help you find writers that already have an established reputation, which is why I put this one last. This one puts you in the position of having writers come to you, which means you have to do more work in going through the applications you get and vetting each one.

But while I warned you away from a few job sites earlier, there are some that are a few notches above Upwork and Fiverr for finding qualified professionals. Most of these will charge either a one-time fee for the posting, or a subscription cost for joining the platform.
If you're local to Austin, Freelance Austin has a job board to consider as well.
If you go this route, take some time to write a job ad that provides information about the type of work you need a writer to do and the budget you have in mind. Providing project details will save you time from fielding writers that specialize in a different type of work. And with so many freelance job ads that pay pennies, making it clear you have a real budget will affect the quality of applicants you get.
How to Vet Freelance Blog Writers for Compatibility
Hopefully, you now have a number of freelance content writers to consider. Now you need to figure out which of them is a good fit for your business needs.
1. Clarify your process first.
Before you can find out if they're a good fit for how you work, you need to know how you work. If your team is new to hiring freelancers, then take some time to work out what your ideal working situation looks like. What are your typical processes for planning, creating, and publishing content now? What would be the most seamless, natural way for someone new to fit into them?

If you come to your search with a good idea of what you're looking for, both in terms of skill and working style, you'll know the right questions to ask to determine fit.

2. Review their samples.
Don't skip this step! Before you hire a writer, confirm that you actually like the way they write. That seems obvious, but if you have a big list of names, it could get lost in the shuffle. Look at the writing samples on their website. Make sure you check samples from a couple different clients, so you can better see which aspects of their style and skill are theirs versus that of an editor they work with.
3. Pay attention to what their website says about how they work.
Freelance copywriters don't want to spend a lot of time fielding clients that aren't a great fit either, so often they'll provide some information upfront about how they work and the kind of clients they're looking for. See if there's anything on their website that conflicts with the process and preferences you outlined in step one. If so, better to move on to the next person on your list.
4. Come to your first call with questions.
Once you know what you want in the relationship and have taken time to learn what you can about them, set up an interview call. Come prepared with a list of questions you have about how they work. Some of the questions in my list for copywriters will work just as well for those looking to hire writers.
Preparation will make your calls more efficient and make sure you cover all the bases you want to in the time you have. One thing to be aware of: it's OK to ask about price on a call, but many freelancers will avoid answering straight away and instead send a proposal in writing after the fact. That's normal, and helps us avoid misspeaking off the cuff before we have a chance to think through the details of the project. Don't be put off by it.
5. Treat the initial project as a trial.

Even if you do all this right, there still may be compatibility issues that come out during your first assignment or two. For that reason, it's often best not to start with a long-term commitment, but instead to stick with a first assignment before deciding what the ongoing relationship will look like.

Be aware that the freelance content writer you hire will probably be doing the same thing though. Don't treat it merely as a chance for them to to prove themselves to you. If you like their work, you need to prove yourself to them as well. A good freelance relationship is a partnership with a fellow professional, and things will go better if you approach it that way.

If you need a freelance blog writer right now…
You just happen to be on the website of one. Take a look at my writing samples and some details on how I work, and get in touch if you think we might be a good fit.