Anyone who works in content marketing is used to encountering bad examples. You get better at noticing the stuff that doesn't work when it's your job to make stuff that does. Because we're so used to seeing bad examples, it feels really good to encounter examples of content writing done right.
It can give is some inspiration in our work and, if we're the target audience, be directly useful to us as well. To provide some of you with that feeling today, I've collected a few examples of great content writing I've encountered. Enjoy.
Great Business Blogging Examples
For most companies that do content marketing, blogging is the biggest part of the job. Blogs give you the opportunity to provide fresh, useful content to your audience on a regular basis and they're one of the best tools you've got for SEO.
But they're also hungry beasts that demand lots of work and never let you take a break. That's caused far too many businesses to try to settle for lazy, cheap content on their blogs – or give up on them entirely within a few months of not seeing immediate results.
The brands that stick with it and provide consistently helpful and high-quality content are therefore in the minority.
HomeAdvisor
Homeowners tend to have a lot of ideas for projects they want to try and questions about how to handle everyday fixes. The Home Advisor blog HomeSource is packed full of answers and tips. The blog is a mix of practical tips like how to hire a good contractor or pack for a move, along with more fun topics like decorating your home and yard.
Probably the most common questions homeowners have are those about cost. Many people – especially new homeowners – simply don't know what's normal to expect a home repair or update to cost. In addition to the blog itself, HomeAdvisor therefore offers a True Cost guide to give you an idea of what your budget should be before you start a project, and help you rule out any contractors that charge outside of the norm. And since the company's business model is based on matching homeowners with the people who do those sorts of projects, they of course offer a handy CTA on the same page to help you find relevant professionals in your area.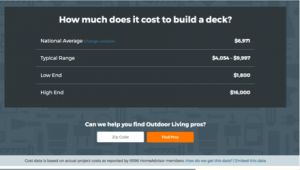 Rover
Rover's got a bit of advantage over most businesses when it comes to their content. The company is all about pets (mostly dogs) – and we all know pet pictures are one of the most popular things on the internet. But in addition to taking advantage of the love people have for pictures of cute animals, the Rover blog Daily Treat also provides a lot of useful information on topics important to pet owners, such as training and safety tips and answers to pressing questions like "do dogs recognize us on a phone screen?" (if you have a dog, you've probably wondered).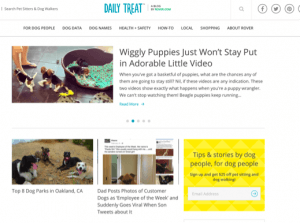 They're one of the companies that can most successfully get me to click on a link in an email, because they do a great job of figuring out the things pet owners really do want to know.
Ehrlich
If you're thinking "sure, their content's good, but Rover has it so much easier than those of us doing marketing in areas less compelling than the cute dog industry," here's an example for you. The pest control company Ehrlich has a great blog, deBugged that provides lots of useful information about bugs and other creepy crawly-adjacent subjects.
Bugs aren't a subject most of us go out of our way to do some reading on each day, but when you need to know how concerned you should really be about Zika virus or what to do about bed bugs, those posts will come in handy. And the rest of the time, you may find posts on topics like how long wasps live to be interesting as well. Like Home Advisor, they include CTAs at the end of their content where relevant so that person trying to figure out what to do about bed bugs knows who to call to help.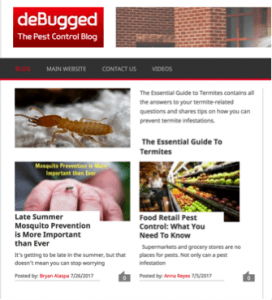 Great Examples of Longform Content
As content marketing is adopted by more and more businesses in all sorts of industries, finding a way to stand out is a challenge. One route many businesses are taking is creating content that goes more in depth. It takes more work, but if you can pack more of the information your prospects need into one longform piece rather than spreading it over a number of shorter pieces, many people will find that more helpful.
Freshbooks
Freshbooks' target audience for their accounting software is small businesses and freelancers. That's a group of people that thinks a lot about pricing – figuring out how to charge for your services in a way that works for you and your customers is a fraught subject.
In order to provide them information so useful it could stand out in the marketing crowd, they put together an ebook that tackled the subject of how to switch from charging hourly to project-based pricing. The 70-page book is structured like a conversation between two relatable professionals and lays out the case for a different approach to pricing that can help service-based small business owners make more.
The book got reviewed around the web and collected positive testimonials from a number of key influencers. Not bad in our world of content saturation.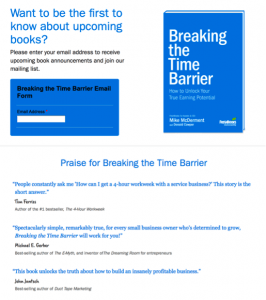 Moz
I mentioned content saturation before, but arguably the industry that has it the worst is marketing. Many of the earliest adopters of content marketing were marketing agencies and marketing software companies. Producing content about marketing that doesn't repeat what's been said before and manages to provide something truly useful is a huge challenge businesses face. But Moz is consistently good at it.
Any time I encounter someone looking to learn the basics of SEO, I send them over to the The Beginner's Guide to SEO by Moz. It's thorough, but manageable. It's written in a way to be accessible to people new to the concept and it's organized to make it easy to focus in on specific sections when you just need a refresher on, say, keyword research.
The guide was produced several years ago, but is updated regularly to make sure the information stays accurate. It's been read over 3 million times and continues to generate new traffic for the site.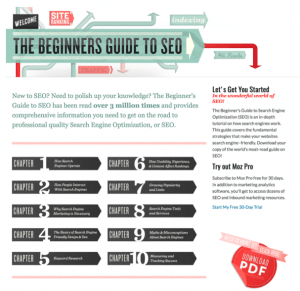 Rodale's
For people just getting started, gardening is both exciting and overwhelming. There's a lot you need to know and figuring out both the answers to your questions and even what questions you should have can be challenging.
In addition to their usual helpful blog content, Rodale's also provides some longform guides that help the people in their target audience – gardeners that care about the environment – learn all the most important basics to start out with.
Their Beginner's Guide to Organic Gardening covers using seeds, using transplants, weeds, pest control, and basic gardening vocabulary. It ensures readers can go into their local nursery with all the 101-information covered.
Content marketing is hard to do well, but seeing how other brands are pulling it off can help you to revisit your own strategy to consider ways to do better.
Hopefully these examples will provide some inspiration for your own content. And if you could use some extra help with content writing for your business, that's what I do. Get in touch to see if we might be a good fit.
Want more examples of great content writing to check out? I collected 7 great examples of business blogs in a recent post and I've got a whole page of content writing links by me over on my writing samples page.