Austin is a city full of freelancers in general, and freelance copywriters in particular. In this town, meeting other people who do what I do is common. From a competitive perspective, that makes it sound like a terrible place to be a freelance copywriter. In my experience, the exact opposite is true.
Instead of viewing each other as the enemy, we help each other out. I'm part of a freelance referral network that has brought me thousands of dollars in business, much of it sent directly my way by other local freelance copywriters – my so-called "competition." And I know some of them have profited from jobs I've passed on because I was too busy or they weren't a good fit.
Befriending my competition may just be the best thing I've ever done for my business.
How Do You View Your Competitors?
Whenever I encounter clients who insist that nothing they publish can include links or references to their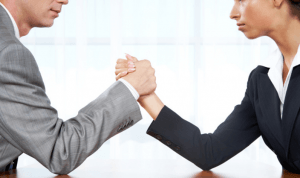 competitors, I usually shrug and oblige, but I always think what a missed opportunity. These are the businesses that share your target audience, and that are probably producing content that would be of great use to them. Is trying to pretend they don't exist actually going to bring you more business?
If you view your competitors as a threat to the degree that you worry any mention of them could hurt your company, take a minute to analyze why. Is this really a strategic decision, or one borne of fear?
Why Content Marketing Doesn't Have Room for "Competitors"
The big goal is to provide value to your audience, right? Content marketing is a long-term strategy designed in large part to gain customer trust. You know what makes me really trust a company, if they're not afraid to admit a direct competitor has done something good.
Whether that's an impressive piece of content they're willing to share, or acknowledging that a feature in the competitor's product makes them the better choice for some customers. Man, I hear that and think: this company is confident in their product and positioning.
Still Skeptical?
All my arguing for this so far has been based on my personal opinions and anecdotes, so I could see someone being unconvinced. But I'm not alone in this thinking. KISSmetrics, one of the top blogs out there in the marketing space, gives tips for growing your social media following that include following your competitors, commenting on their posts, offering to guest post on their websites, and promoting their stuff. But that's just social media; I argue that there could be a clear value to publishing content that directly mentions your competitors or links to them.
Imagine for a minute that you're the first person anyone looking for products or services in your industry comes to when they have a question about what to buy. How different would your business be?
Marcus Sheridan pretty much pulled that off with his pool business by publishing content about his competitors – not negative content, just informational stuff. He paid attention to the kind of questions his clients had and he answered them honestly on his website, even when it meant saying something positive about one of his competitors.
If you're interested in using content marketing to become a thought leader, or even just a trusted brand, then the fear of mentioning your competition has got to go. You don't have to go out of your way to promote and interact with them (obviously), just be willing to do so when it fits in naturally with your overall strategy. If the product or services you offer are really and truly great, then what do you have to fear?