There are two main types of search engine marketing: PPC (pay per click) and SEO (search engine optimization). I've already covered some of the best introductory tips and resources for SEO, but PPC marketing is another one of the best sources of ROI in marketing available, especially in the period in between implementing SEO techniques on a website and beginning to see the results.
What is PPC?
To understand PPC, you first need to understand how organic search results and paid ads differ: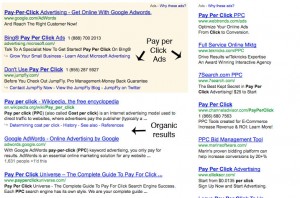 Organic search results – the websites that show up in the main listing of results when you perform a search in a search engine
Paid search results – the ads you see, normally located above the organic search results and to the right of them
SEO aims to get a website listed at the top of the organic results. It's a slower and more difficult process than getting a website noticed through paid PPC ads, but it can yield huge results in the number of relevant visitors to your site.
PPC ads are much easier method to get on the first page for a search term faster, but they have a clearer immediate cost than SEO, where most of the cost comes through the time spent optimizing a webpage and linkbuilding.
Why PPC?

PPC ads are valuable in that they appear to people who are already looking for what your company has to offer (assuming you do a good job in targeting the right keywords) and you don't have to pay every time someone sees the ad, just each time someone clicks on it. Chances are, a person who chooses to click on a PPC ad is someone coming to your site already equipped with an interest in buying the kind of product you offer, or at least doing some preliminary research into the options available with the intention of buying later.
Therefore, in comparison to other forms of advertising, the clicks you're paying for will in most cases be fairly solid leads.
Even better, if you find that any of the ads you're using or keywords you're targeting tend not to produce solid leads, you have easy access to data that helps you shift your tactics and money towards the ads and keywords that provide the best results. In other words, the longer you use PPC as a form of marketing, the better your results are likely to be.
How to Get Started with PPC Marketing?
As the most commonly used search engine, Google's the best place to start. Create a Google Adwords account and a Google Analytics account. Google provides ample information to anyone getting started with Adwords. The Google Keyword tool is an especially valuable resource for determining the best keywords to target in your ads.
Google's not the only search engine to consider, Yahoo and Bing also offer paid search programs that can be well worth the investment.

Helpful Resources:
I've collected a few links for further reading that do a good job of providing useful introductory information.
7 Steps to a Perfect Pay Per Click Campaign
If you want more information, browse this page, or do some further exploration on the websites linked to above. You'll quickly find a surplus of information to get started with a PPC campaign.