Unfortunately, this is a personal subject for me. For the past three years, I've dealt with a thyroid-related issue that causes me frequent fatigue (less so now that I have the right meds). On top of that, I've had many days where my brain was foiled by allergies (a bigger deal in Austin than the word "allergies" communicates to most people). But I run a business based around writing and I've had to keep it up on the bad days as well as the good.
Over time, I've become used to keeping my work going when my brain and body just want to curl up in bed and avoid anything that requires mental energy. And writing takes a lot of mental energy. Yet, somehow I still meet my deadlines.
Some days I'm amazed that's the case, but apparently I've figured something out that works. Suspecting that there are others that struggle with similar issues or different ones that affect your productivity in similar ways, I'm sharing what's worked for me in the hopes that it might work for you.
It's unlikely that every item on this list will be useful for every person reading it. But if you find that even just one thing here makes a difference, then that's something.
Re-shape your to-do list based on priority.
Most of us start off each day aiming to do more than we absolutely have to get done. A lot of the time, that ambition serves us well and helps us stay productive. But some days it can feel like a burden pressing down on us making it harder to get anything on the list done.
When you're having an off day an overwhelming to-do list isn't doing you any favors. Carefully review the list and figure out which items on it can wait. You need the sparse energy you have for the writing that has to get done today. Move that to the top of the list, do it first, and then do whatever else you can manage after.
Analyze where your energy goes.
This one's personal, and extremely useful over the long term. Every person's going to have different types of work and activities that require a lot of energy from them, while others require less. When you deal with any kind of issue that causes you lower energy levels for certain days or periods of time, knowing how to re-shape your calendar based on the amount of energy you'll have available is a useful skill.
This is valuable even if you don't struggle with depression or illness – tracking how your energy levels relate to the work (and play even) that you tackle each day can help you plan your weeks more efficiently. You can minimize tasks that require a disproportionate amount of energy for the value they bring to your work.
For instance, I'm extremely introverted. Adding a networking event into my day is going to use up a lot of the energy I have for work that day, even on a good day. So I know to be strategic in when I plan to attend social events, and know when to forego those plans when the energy just isn't there. Figure out how the typical tasks you have to deal with in a week compare in this regard so you know which ones to cut down on to conserve the energy you have.
Leave wiggle room in your schedule.
If you're freelance like me, that will mean leaving money on the table. Sorry.
But when you can't predict what your days will be like, you have to plan your life in a way that anticipates at least some bad days.
This isn't a tip that will help much if you woke up this morning feeling fatigued or depressed for the first time, but if it becomes something that happens at all regularly, then you have to start planning on it. Worst-case scenario, if you have nothing but good days for a while, that extra wiggle room gives you time to tackle all those tasks that tend to get put off to later when you're busy.
Use a social media blocker.
Seriously, it helps. When your brain wants to be focusing on anything but the thing you know you most need to be doing, it can fall into the well of endless social media messages. That's probably not the only distraction in your life you have to grapple with, but it's one you can do something about.
I use Focus. It costs a small fee, but it's probably improved my productivity enough to cover its cost several times over. When you genuinely want to be focusing and your brain won't cooperate for whatever reason, getting a message that reminds you of your good intentions the moment you go to pull up Facebook can be a helpful reminder to get back on track.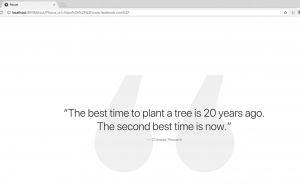 Give work out breaks a try.
I get it. I understand if you're looking at the computer screen right now feeling so tired or overwhelmed or beat down by life that this is likely the last piece of advice you'll want to hear.
It's counterintuitive when it feels like you have so much to do and not enough energy to do it to take time out of your day for exercise. But I've found that it sometimes kick-starts my brain and gives me a couple of hours of productivity afterward. It might not do the same for you, but it's worth a try.
Watch what you eat.
Pay attention to insensitivities or ingredients that regularly make your drowsy or distracted. I know having a carb-heavy lunch brings my productivity down in the afternoon, for example. How people react to food varies, so saving carbs for dinnertime might not make a lick of difference to you. But do some experimenting with cutting certain ingredients out for a period of time to see if you see any difference. Or start making notes of how you feel throughout the day and what you ate so you can see if there's a relationship.
Changing your diet won't make something like a thyroid problem or depression disappear entirely, but cutting out something that makes you feel a little bit worse will help you feel a little bit better. When you're starting from a place of feeling crummy, that little bit of difference can help.
Try supplements or herbal teas.
Look, for all I know it may be the placebo affect, but I've found this tea helps when I'm really struggling to focus. And making tea out of fresh ginger (I add in some mint and lemon or lime) seems to help with headaches or allergy-induced brain fog. Ginseng or gingko supplements work for some people. B-12 or vitamin D supplements may work for others.
Your doctor can run some tests to see if you're low on any supplements that are good for energy and brain health. And you can try out some different options to see if something works for you.
Give yourself a break.

The inspirational stuff you see on social media or in productivity articles for people that don't have illnesses/depression/whatever you're dealing with right now may be good for other people, but they can make those of us struggling to finish the bare minimum feel rotten. Know that it's ok not to hold yourself to someone else's standard when you're having a bad day (or week, or month).
Feeling stressed out and hopeless won't help you get the things you need to done. Do the best you can and don't beat yourself up what you accomplished today is less than you'd hoped.
I'm not a doctor or medical expert, so if you're dealing with something that you think may benefit from talking to someone who is, don't let this post be a substitute. Getting the right meds made a huge difference in my ability to get work done without having to lean on these tips and tricks quite so often. But having a few more tricks in your bag besides to help out when things are hard doesn't hurt. I hope these can help you get through the writing that has to get done today and that your tomorrow is better.