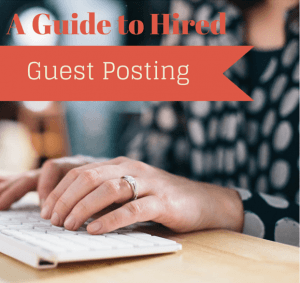 With every year, as more businesses start doing content marketing, it gets harder and harder to be one of the brands people find and follow. Building a large library of valuable content on your own website is still an important part of gaining leads and building authority, but it's no longer enough for most businesses.
You also need to find ways to get your content in front of new audiences. For that, a growing number of brands are looking for ways to get mentions and links on high-profile industry blogs. And freelance writers like me get lots emails from companies hoping we'll get content about them onto blogs they want to target.
That's understandable to want, but too often businesses have unrealistic ideas of how hiring a writer for high-profile guest posting works. Here's a rundown of the main dos and don'ts for hired guest posting.
How Not to Hire a Freelance Content Writer for Guest Posts
I'm sorry to say some businesses and agencies are going about this all wrong. They're either skirting ethical boundaries in what they're asking for, or grossly underestimating what's involved in getting a high-quality guest post published on a popular blog.
Don't act like it's one job.
When you're hiring someone to pitch guest blogs and write a post you're asking them to do two different kinds of work: writing and PR. While some PR specialists are good at writing, and some writers are experienced in PR, these are two distinct skill sets. Many writers (myself included) will decline the PR part of the work, but you may get lucky and find someone prepared to take on both jobs.
Whatever pricing structure you set up needs to acknowledge the two different types of work at play here and the (often extensive) amount of time that goes into building relationships and sending pitches. You'll probably need to consider an hourly rate for the PR work, along with a project rate for the writing.
Don't expect it to be cheap.
In doing research for this post, I came across a job ad looking for "experienced, well-connected bloggers" offering $30-$60 per published guest post. Sorry to break it to you, but you won't find experienced bloggers willing to write high-quality posts for that amount. And the kind of rushed, low-quality work that might be worth $30 a pop isn't going to get you featured on the big-shot blogs you want to target.
To come up with a reasonable rate for a guest post worthy of a popular blog, don't just think double—think 10 times this amount.
I know that's not what you want to hear, but really high-quality posts—the kind these blogs will publish—take lots of research, lots of time, and lots of work. That's going to cost you.
Keep your expectations reasonable.
Often a very good idea or post won't get accepted for reasons no writer or PR person can guess. Maybe the blog already has a post scheduled on a similar topic, or they just decided yesterday they're moving in a new direction for their blogging strategy. Even if the freelance blogger you hire puts in the legwork, they can get rejected. Understand that there will likely be more misses than hits.
Don't ask the writer to leverage their own contacts.
Carol Tice recently went so far as to call this kind of writing opportunity a scam. Freelance writers work hard to develop our contacts and earn the trust of our clients. Expecting us to ask those hard-earned contacts for a favor to promote another business just doesn't make sense in most cases. If a writer sees an opportunity that's beneficial for both parties – the client and the blog or publication they have a relationship with, then they might feel comfortable reaching out. But don't demand it or be upset if they turn down that request.
On the other hand, one of the main jobs of a PR professional is developing contacts they can leverage on behalf of their clients. Consider hiring a PR consultant to do what they're good at, and a writer to do the writing.
Don't ask for posts that are overly promotional about your business.
I once pitched a piece on a relevant subject for my client to a publication, got accepted, wrote it up and passed it over to the client for review before submitting it. The client went through and added several specific mentions of the company's product. You probably see where this is going…when I submitted the piece, the editor said "This is great! Except for all those brand mentions. I took those out and now it's ready to run."
Very few blogs or publications are going to accept a guest post that's blatantly promotional. Your piece can't be all about you. It has to be about something valuable to the blog's audience. If you don't get that, you'll waste a lot of time working on posts and pitches that get no response.
How to Get Hired Guest Posting Right
That's a long list of don'ts, but that doesn't mean you  have to rule out the idea entirely. You can hire someone to write guest posts for you in a way that's legitimate.
Do the pitching and relationship building yourself.
Or hire a PR person for that, as already suggested. Doing all the preliminary work of researching a blog, trying to understand its audience, generating relevant topic ideas, and sending pitches—that's not writing. When you hire a professional writer to do writing, you get good results. When you hire us for something else that isn't our specialty, the results will be more mixed.
And as an added note, it especially makes sense to do your own pitching if you want a guest post to go up under your name rather than the name of the freelance blogger you hire.
Be upfront about disclosing your company's connection to the post.
You don't get to casually slip in links to your website and hope no one notices. And you certainly don't get to expect freelance writers to do that for you and risk their reputation in the process. That's how you lose trust in the online marketing world and alienate the people who could be the best allies for your brand.
Hiring a writer to ghost write guest posts is fine, but will probably cost more.
Some writers aren't fans of ghost writing. I've read some eloquent criticisms of the practice, but I also know a lot of professional copywriters that are happy to do it for the right price. The thing you have to keep in mind though, is if a freelance writer is going to do the hard work of writing a post worthy of a popular blog for the sake of someone else's business and reputation, the price has to be right.
I know I keep coming back to price, but with good reason. It's important for you to understand that if you want to take the road of hiring someone to write guest posts, you have to set enough budget aside for it. Guest posting is a competitive arena, especially on the blogs most worth landing a post on. You can't go halfway on this. If you want to get the benefits of guest posting, you have to be willing to treat it as a serious investment.