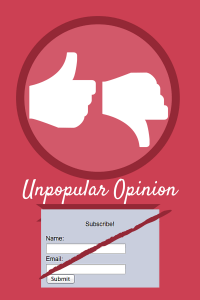 If you spend any time at all doing, researching, or thinking about content marketing you hear people talk about the importance of the list. Almost of all of the best marketing blogs sing the praises of the email list as a crucial component of building a successful business.
Copyblogger says: "Every successful online marketer we've talked with agrees — email readers are more responsive, they have a tighter connection with you, and they buy more stuff. "
In an ebook thoroughly devoted to the subject, Hubspot says: "The size of your email list is a demonstration of your reach and thought leadership."
Danny Iny from Firepole Marketing says: "Sure, Twitter, Facebook and RSS can be nice, but there's just no comparing them to the raw power that comes with invited access to your prospect's inbox."
Joe Pulizzi, the very man who coined the term "content marketing" says: "There's no Holy Grail to content marketing, but if there was one, it would be the email subscriber."
If you google the term "the money's in the list" you get page after page of articles from expert marketers insisting on the importance of building an email list.
As a content marketing copywriter, I know all the "rules" – the widely regarded best practices we're all supposed to be following. Yet you've almost certainly noticed by now that there's no email sign-up box in the sidebar. This is one of the golden rules of content marketing and yet I don't personally follow it.
So….Why?
I don't believe any of those quotes I cited up above are wrong. Those are some of the best minds in the biz and I'd be quick to share similar advice with many clients.
The reason I don't follow this advice myself isn't because I think it's bad advice, it's because it's just not right for my business.
We're All Different
Every business has distinct goals and priorities when it comes to content marketing. And every business must make choices when it comes time to decide where to spend time and money.
Like every other marketer and business owner in the world I have a loooooong mental list of different techniques and tactics I'd love to try for my business if only there were endless hours in each day. Like everyone else, I know I can't accomplish them all and have to prioritize.
How I Prioritize
I'm just one person and my goals for the future of my business don't include growing it beyond one person. That puts some serious limitations on the time I can spend on marketing, so I have to stick with the most efficient tactics for my purposes. These include (but aren't necessarily limited to):
Networking. Both locally, at conferences, and online.
Guest posting to raise my online profile and demonstrate my abilities to a new audience.
Participating in social media with the goal of making new connections there.
Writing posts (like this one!) on my own blog to share my knowledge with readers and demonstrate my abilities to anyone who visits my site.
It's a short list but, combined with my responsibilities to clients, it sure keeps me busy.
At the end of the day, all content marketing tactics come back around to the goal of making connections. The way you do it matters less than the results. For me, the activities I listed above work for what I want and need (and can accomplish) in my business.
The best strategy for your business will necessarily be different.