Post updated in January 2019
Being a copywriter for a living requires more than just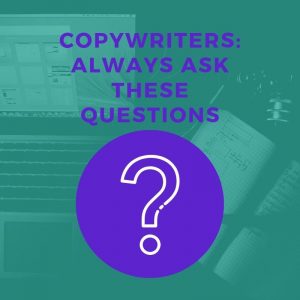 knowing how to write well. For your work to be worth it to clients, you have to deliver content that helps them achieve their goals. And a big part of that is learning how to communicate effectively with prospects before you ever start a new assignment.
Asking the right questions before you start working with the client can save you both a lot of pain down the line. Getting everything clear from the get go ensures you:
Can establish if you and the potential client are a good fit.
Gain a clear idea of what type of work they're looking for.
Are able to provide an accurate quote for the project.
Go into the project with all the information you need to do it well, if you both choose to move forward.
It also makes you more professional when you go into the call clearly prepared and know the right questions to ask.
Many of the client relationships I've had that didn't work out failed either because we didn't do a good job of getting on the same page in this early step, or because I ignored signs in the initial call that the project or client weren't a good fit—against my better judgement. (I suspect every freelancer does this several times before learning to trust our gut better).
Over several years of working as a freelance content marketing writer, I've come up with a good template of questions I use for early client calls. This starter list, along with a few minutes of research into the business before the call starts, goes a long way to starting client relationships off on the right foot and keeping these calls efficient.
The 20 questions provided below should be treated as a starting point. Every freelancer has different priorities and a different working style, and you may find it worthwhile to skip some of these or add in different questions.
Oh, and this list can be just as useful to anyone looking work with a freelance copywriter, to help you be more prepared when interviewing potential hires (especially when coupled with this post on good questions to ask freelancers).
Content
Most copywriters have a certain type of content they specialize in. For example, I stick with writing blog posts and longform content for businesses doing content marketing. Other writers focus on email marketing, or website copywriting, or landing pages. Your first step on the call is to establish the type of content a lead has in mind so you can make sure it matches what you do, and get a feel for the scope.
What type of content do you need?
An obvious enough first question. Figure out what format they have in mind and where it will be published or shared. Blog posts are an entirely different type of work than writing a website or creating a print brochure.
   What kind of length or scope do you have in mind?
For a website, figure out the number of pages they have in mind. For ebooks or white papers, ask what kind of the length they're looking for. For ongoing work like blog posts and articles, find out if there's a typical word count range they prefer the pieces to be in. Understanding the scope is crucial to making sure you price a project right and don't commit to more than you can handle.
     Do you have a style guide?
Style guides give you a lot of good information right upfront about what a business wants in the content you submit. Not all businesses have one, but if they do, you want it in hand before you start working.
    Can you send examples of content in the style you like?
You can ask the lead what type of style they prefer, but I find it more helpful to ask for examples to look at. "Casual" or "professional" may mean different things to different people, but reading a few articles they particularly like—whether from their own blog or another site—can get you in the right headspace to deliver the style of writing they prefer.
Target Audience
You can not write effective content without knowing who you're writing for. Everybody's different and a message that works for middle-aged CEOs of small startups will be different than what works for teenage boys into video games.
    Who's your target audience?
Ask about who they're trying to reach. What can they tell you in terms of their demographics, interests, and priorities? If the company's B2B, what industries, job titles, and company sizes are they targeting?
In most cases, your target audience will be people they want to become customers, but not always. For some types of content, your target audience will be PR people, journalists, bloggers, or internal employees. Understanding that distinction is important!
    Do you have a persona?
Personas help you picture the person you're writing for. They provide a lot of good information on who the target audience is and what they care about. Not all companies have them, but if your prospect does, it's something you want to see.
    What do most of your current customers look like?
Understanding who buys their product now will help you understand who will buy the product in the future. Ask them to describe their current customers, especially those they'd consider their best or most enthusiastic customers.
    Do you have data now on the kind of content and topics they respond best to?
This is a good way to learn more about who your audience is based on real data. Find out which of their content is the most popular with the people they're trying to reach. They should have (or be able to find) data on which blog posts get the most views and shares, which emails get the most clicks and opens, which ebooks get the most downloads, etc.
Primary Goals
In marketing, every piece of writing should have a goal. No company will pay for writing unless they want it to accomplish something. And you need to know what that goal is.
    What are your goals for this content?
Ultimately, every business wants to make more sales, but that doesn't mean every piece of content is about making a sale.  In content marketing, some content is meant to be educational and build a relationship. Some is to improve a website's SEO. And some will be about driving an action like signing up for an email list or downloading an ebook.
Ask what they consider the best metric for the success of the piece: how many people view it, how many websites link to it, how many people download it, how many sign up for more information, purchase a product, something else? You need to know so you can write content designed to meet that goal.
 Is SEO a priority?
For any content that will be published on a website, this is an important question. When SEO comes into play, you need to be aware of the keywords your client is hoping to rank for and strategically use them in your headings and the body of the piece.
You'll also want to clarify if they'll be providing keywords and performing on-site optimization, or if that's part of what they're hiring you to do, so you understand the full scope.
 Do you have a plan for content promotion?
I'd love to think that great writing is good enough on its own, since that's the service I provide. But it's not true anymore. For the content I provide my clients to do its job, they also need to put work into promoting it. So it's always good to ask potential clients if they have a plan in place now to promote their content.
If content promotion is a service you offer, then this could be an opportunity to upsell and offer more than just writing. If not, you can at least do your due diligence in telling the prospect how important you think it is to their success and encourage them to make it a part of their content strategy.
Product and Business
Before you do any writing for a new client, you want to take some time to understand who they are and what they sell. You can get some of that initial information on your first call (and fill in the gaps with additional research after).
 What's your company's unique positioning?
Every company should have a unique value proposition (UVP) that clarifies the primary benefits of the product or service they sell, and what sets them apart from the competition. If your prospect doesn't yet have a UVP, this is another potential opportunity for you to help them develop it.
 Who are your main competitors?
Competitor research is a good way to better understand the industry and a client's place within it. Having a list of the three or four main companies they consider the competition will help you with your initial research.
 What are your favorite industry blogs and resources?
If the prospect is in an industry that's new to you, ask them what websites and blogs they trust most. This list will give you shortcut in finding reputable resources in your research, and help you get up to speed on the topics commonly covered in the industry.
 Can you send over resources to help me get up to speed on the product?
Most companies will have both internal documents and marketing materials that provide information on the products they sell. Ask about case studies, product demos, customer feedback, and testimonials. And as previously mentioned, see if they have buyer personas and a style guide.
Working Style and Process
One of the biggest lessons I've learned in years of freelancing is how important it is to work with clients that are a good fit. That will mean something different for every freelancer, and the better you come to understand what it means for you, the more success you'll have. For me, these questions are useful for identifying when clients are likely to be a good fit or not.
 What does your process for working with freelancers generally look like?
This general question gives your prospect a chance to provide a description of their working style, which can provide a lot of good information. See if what they describe seems to match well with the way you work.
 Will you provide topics and initial strategy, or would you like my help with that?
How to frame this question will depend on the type of work involved, but it's important for clarifying scope. Many clients will have their strategy firmly in place, and only need you to do the writing part. Some content marketing clients will want you to pitch topics for content, do keyword research, or get your help with promotion. For website copywriting, they may want you to take charge of crafting a UVP or doing audience research as part of the project.
You need to know if you'll be in charge of strategy as well as writing, so ask specific questions to find out what the project fully entails.
 Do you typically plan out your calendar in advance?
This is an important compatibility question for me. I like to know what my calendar looks like going into the month so I can plan out my days carefully and avoid overloading myself, while some clients like a much faster turnaround. This question helps you figure out if you're a good match when it comes to how you schedule assignments.
And a note here: if you're a freelance writer who's happy to take on projects with fast turnarounds, that's a big value add! I encourage charging accordingly.
 What's your preferred form of communication?
Do they prefer phone or emails? Do they like to manage their communication with freelancers on a platform like Slack or Trello? This is another potential compatibility issue. Communication styles can make a big difference in how hard or easy it is to work with a client.
 What's your typical timeline and process for revisions?
Revisions can potentially add a lot of work to a project. This question helps you figure out how often you can expect to make edits and changes, and how to plan for them in your schedule.
What About Money?
A lot of freelancers advise also asking about budget. I left that question off intentionally here. I prefer following up the call with a detailed proposal listing out my rates, rather than discussing them on the phone.
That makes it easier for me to be thoughtful about what I quote, so I don't underprice when feeling put on the spot. And it means I can provide information on the value I provide alongside the rates.
I usually go into the call with a minimum rate in mind, since the client will likely ask, and I have an internal rates sheet to help guide me. But I wait to provide specifics until after the call.
Asking these questions will both help you avoid clients who aren't a good fit for you and enable you go into every new client relationship with the knowledge you need to do good work. Make that initial call worth it by being prepared with the right questions.