If your business has a blog, but doesn't have a blog strategy yet, I just decided what the next two things on your to do list should be: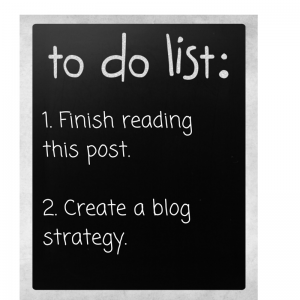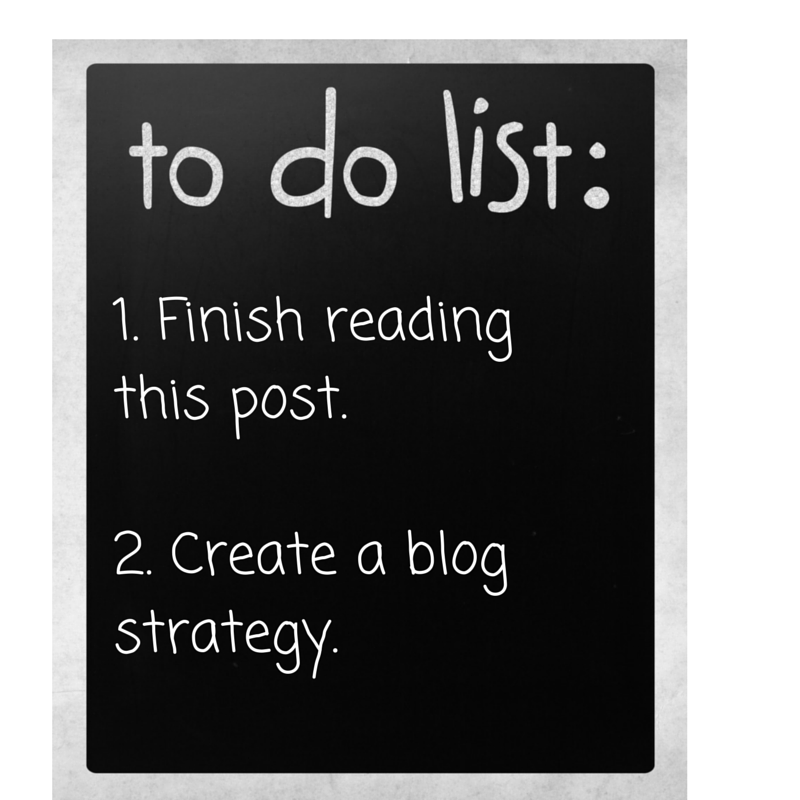 You can't just blog blindly. Whether you're taking the time to write content yourself or hiring a freelance blogger, blogging has a cost. No good businessperson wants to incur that cost without taking the proper steps to get something back from it. When it comes to business blogging; that means creating a blog strategy.
The Difference a Blog Strategy Makes
Based on a 2013 study, only 20% of businesses had blogs, and over a third of those never got updated. You know how that happens, right?
Someone says, "we need a blog!"
Someone else says "Ok."
Then no one creates a blog strategy or puts in the work to keep it updated.
An abandoned blog will do nothing for you. A blog that you're investing time and money into that's not getting read or driving conversions won't do much more for you than an abandoned blog will (although you'll be spending a lot more on it).
Creating a blog strategy can help you avoid those fates.
Here's what you need to consider to put a good one together.
1)   What are my blogging goals?
A blog can bring in new leads and customers, but that's not going to happen right away and it's not always easy to determine which leads first found you through the blog. So while that can be your overall goal, when it comes to creating your blog strategy and tracking your progress, it helps to have some lower-level goals that can help contribute to that, like:
Think about why you want a blog and what you want it to accomplish for you. Your blog strategy should be based around those goals.
2)   Who am I writing for?
Hint: it's not you. You can absolutely create a blog that's all about the things you're most interested in – but it shouldn't be on your business website. Your business blog has to be about what your audience cares about.
You have to think about their problems, their questions, the types of things they normally like to read and do online and in the world at large. What you blog about and how you write needs to all come back to them.
3)   What does my audience care about?
You really want to get inside their heads here (as much as you can without being creepy, anyway). If you're a local business in a city full of people with local pride, that should come through in your business blog. If your audience is moms who care about the environment and worry about the ecological effects of every product they buy, your blog should share that concern (and provide information that helps them make informed choices).
Do some research:
Pull up websites you know your customers like and look at what posts and articles are the most popular.
Read the comments that people in your audience write on those sites.
Spend time in forums.
Have conversations with your customers and prospects directly.
Keep a running list going where you collect all the ideas you learn so you can make sure you're blogging about the things they care about.
4)  What's my (realistic) blogging schedule?
If you read somewhere that you have to publish a new blog post every single day, forget it. While it's often true that regularly posting fresh content adds up to better blogging results, that's only true if the content is good and you keep up with it. A lot of businesses don't have the bandwidth for daily blogging.
My one-woman business publishes once a month because I know that's the most I can expect from myself while also getting all my client work done. The ideal isn't to produce as much content as you possibly can, it's to produce as much good, worthwhile content as you reasonably can. Setting your sights too high in terms of quantity will mean an abandoned blog or junk content no one wants read.
Carefully consider how much time you really have, how much time your employees really have, and how much you can afford to spend on a good freelance blogger. Then create a blog strategy and editorial schedule that's doable.
5)  How am I going to promote my blog posts?
Don't overlook this step. It's one of the big things that sets successful blogs apart from those that fail. People have a lot of content to choose from out there. How are they going to find yours if you don't create a plan to get it in front of them?
Content promotion can be part of a long-term social media and influencer strategy, it can incorporate paid media to get results faster, or it can be some combination of the two. Just make sure your blog strategy includes room for promotion (both in terms of time and budget).
Starting a blog is easy enough, but doing blogging that's worth it and yields results for your business is hard. Anyone who says otherwise is misleading you. If you're going to invest in a blog, be willing to invest enough to make it worth it. My free report on building a better blog is a good place to start in visualizing your larger blog strategy. If you could use some help with the content writing, side of things, I'm happy to help.