Blogging has become one of the most valuable marketing tools that businesses have for improving SEO, building an email list, and connecting more directly with customers and leads. When done well, blogging can do a lot of good for your business.
But blogging isn't easy to do well. It requires a lot of ongoing work to produce regular content, and making sure the content you publish is useful and entertaining to your audience is a constant challenge on top of that.
If your company struggles with business blogging and could use some inspiration, I've brought together a few good examples of businesses* that consistently produce solid blog content for their audiences.
1.    Care/of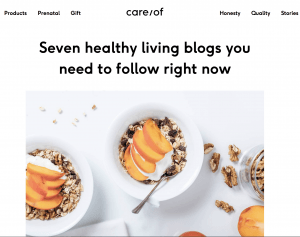 Care/of is a vitamin subscription service that customizes the vitamins they send to each customer based on their particular lifestyle and needs. The company's blog includes articles that directly discuss the benefits of the supplements they sell, summarizing and referencing research studies that back up their claims. But they also publish posts less directly related to their products that address health-related topics that their target audience is likely to care about.
Some good posts that demonstrate this are:
Spice of Life: A Closer Look at the Benefits of All-Powerful Turmeric

Turmeric is one of the supplements they sell, so this post is directly touting the benefits of a product, but the post manages not to feel overly promotional. It gets into the history of how turmeric has been used as both as a spice and a medicinal aid and references a number of research studies that have found evidence of its health benefits.


5 Ways to De-Stress Over the Holidays

During the holiday season, people get overwhelmed and stress becomes a big part of many people's lives. This post covers a number of strategies that can help people reduce stress, including (but not limited to) taking some of the supplements the company provides. It's another good example of a post that provides value first, but mentions their products where it's relevant.

7 Healthy Living Blogs You Need to Follow Now

I call this a sharing-the-love post. It can feel unnatural to write a blog post that sends your readers to other blogs similar to yours, but people have room in their lives for more than one blog about a topic!

By highlighting other blogs that cover health-related topics (most of them more about recipes or exercise rather than supplements, so not direct competitors to Care/of), this post provides something valuable to readers while also potentially starting positive relationships with influencers in the space.
2.    Media Bistro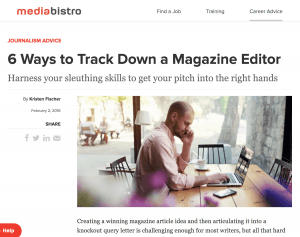 Media Bistro helps play matchmaker for hiring managers in the media industry and the talented professionals they hire. Since the company has two equally important audiences, they produce two blogs: one for employers and one that offers career advice to media professionals.
The blog for employers is a good mix of posts that cover news relevant to hiring managers, answers to questions their readers are likely to have and general advice. Some recent examples worth checking out include:
Congress Weighs Massive Changes to 401(k) Contributions

Employee benefits are something every hiring manager has on their minds, the benefits they offer and how competitive they are can make a big difference in the caliber of talent they attract. So when the government considers legislative changes that could affect the value of a common employee benefit like the 401(k), it's something the Media Bistro audience needs to hear about. This post explains the proposed changes and what it would mean for the blog's readers

Can You Hire or Fire Based on Political Beliefs?

In the divisive atmosphere that's followed the last presidential election, this is a question probably on the mind of more than a few hiring managers. This blog post provides both the technical answer (legally, yes, at least in most states), while also getting into the bigger question of whether or not you should factor politics into your personnel decisions.

The career advice blog regularly publishes roundups of top jobs available in different cities – something that's definitely valuable to readers looking for a job – along with posts that offer general career advice and answers to common questions. A few good examples to look at are:
6 Ways to Track Down a Magazine Editor

For many professional writers, figuring out the right person to pitch is a big part of the job. This post provides specific steps writers can take to discover the editors at publications they want to pitch. It's a useful piece that solves a common problem readers have.
How to Land Higher Paying Assignments

No matter the industry, any blog about careers should address the issue of money. It's one of the biggest topics readers are thinking about. Media Bistro tackles the topic in this post, which provides specific advice on how to start making more money and backs it up with anecdotes from expert sources.
3.    Priceonomics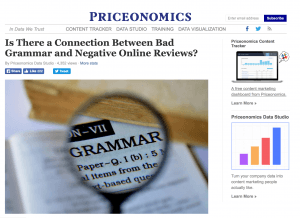 Priceonomics has a business model based on data: tracking it effectively and putting it to good use. And they use their blog to effectively demonstrate the kind of good use their clients can put it to. Their blog posts all use data to answer common questions – or at least as often, questions you didn't even know you had, but find yourself really interested in learning the answer to.
A lot of the content on their own blog serves as an example of collaborations with their clients. By showing the ways their customers use data to create great content, they make a case for their products, while also entertaining their readers.
Their posts are a mix of fun, useful, and just interesting information. Here are a few good examples:
Is There a Connection Between Bad Grammar and Bad Reviews?

This post is a good example of a collaboration with a client, Datafiniti, a company that has a large database of products and their reviews. Once you hear the question, you probably think back to the large number of badly written negative reviews you've read – many of them with lots of unnecessary capital letters or confusing typos. It's a good example of the kind of question you didn't know you had until you heard it, and now you kind of want to know the answer, don't you?

The post not only answers this question (the answer is yes, if you're wondering), but also includes a lot of interesting insights on the average length of reviews (apparently one-word reviews are quite common) and how length and spelling errors both correlate to whether a review is positive or negative. It's a thorough and interesting analysis that does a good job of demonstrating the value Priceonomics provides to customers.
Ranking the Most (and Least) Nutritious Meals for Your Dollar

This is a good example of a really useful post. If you're someone who cares about your health (most of us) and also cares about spending your money well (also most of us), then this is the kind of information you need to make better decisions when choosing your meals. This is another collaboration with a customer – this time a company with software that helps people plan and track healthy eating.

It tests the common supposition that healthy eating costs more (spoiler: it does). But it follows up that depressing finding with a list of healthy foods and recipes people can eat that pack a lot of nutrition for the cost. In short, it's super useful.
4.    Grammarly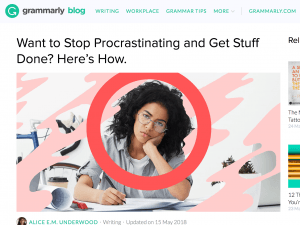 Grammarly sells subscription software that automatically checks customers' writing against a number of rules and best practices to help them improve. Obviously, their audience is anyone that writes often – from students, to professional writers, to professionals who want to write better emails. Their blog posts therefore often delve into common problems and questions writers have, but they also sometimes explore fun history or weird information that curious learners (something most writers are likely to be) will find interesting.
Some good examples to check out include:
Want to Stop Procrastinating at Work and Get Stuff Done? Here's How

If I wasn't currently hard at work on this blog post as I type, I might feel personally called out by this post. Like a lot of creative professionals and well, probably everybody else, writers often deal with procrastination. Staring at a blank Word document has a way of reminding writers about other things we could be doing.

This post therefore addresses an issue that Grammarly's target audience definitely cares about. It provides actionable advice that can really make a difference for a common problem.
Mexican Novels to Help You Celebrate Cinco de Mayo

You know something all good writers like to do? Read! In fact, I've long considered reading one of the most essential tips for being a good writer. This post makes use of a timely reference (it went up on May 5) to provide Grammarly's audience with information they're likely to care about: recommendations for good books.

This post technically doesn't have anything to do with the company's product, but that doesn't matter. It keeps their target audience interested in the blog and more likely to come back for more.
5.    Threadless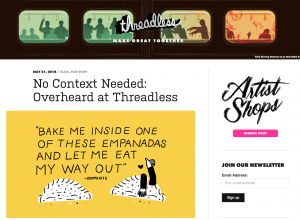 Threadless mostly sells t-shirts, along with home décor, art, and accessories. People can buy t-shirts anywhere, so what makes Threadless really stand out is the hip and artsy personality they pack into their products. The blog continues that branding with posts that are fun, interesting, and highlight original art (including the art they put on their t-shirts and other products).
Here are a few posts that will give you a good taste of the fun personality they present:
No Context Needed: Overheard at Threadless

This is a funny post that says a lot about the brand as it mixes design (each of the quotes are displayed with original illustrations) and humor. The quotes from employees around the office show the kind of light and goofy atmosphere that defines the company's work culture and make it easy for readers to feel a connection to the brand.

The Cute Meets Creepy Creations of Comic Artist, Maria Ahokoivu

This post features one of the artists whose work shows up on Threadless products. It humanizes the artist behind the work – she talks about favorite movies and pizza toppings, along with her work as an artist. And the post includes examples of her work, along with some links to specific Threadless products readers can buy. With artist interviews like this, they've found a human, personal way to sell.

6 Tips for Making it as an Artist (And Making Money)

Some of the people most likely to love and buy the products Threadless sells are other struggling artists trying to figure out how to get their own designs out in the world. This post provides advice for how to start profiting off your art and includes quotes from artists that have actually pulled it off. It's valuable advice that speaks to a common struggle of the kind of people who follow and buy from Threadless.
Intercom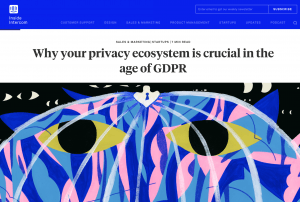 Intercom sells customer management software that helps businesses better organize and improve their relationship with customers and leads. As a result, they have three main audiences: marketers, sales reps, and customer support professionals. Their blog addresses topics relevant to each audience, as well as tackling issues important to anyone helping run an SaaS company. They often use their own experiences working at Intercom to provide useful advice to readers likely to face similar challenges.
Here are a couple of good examples of how they do that:
Motivate Your Star Performers with Meaningful Career Conversations

For all three of the main audiences Intercom targets – sales, marketing, and customer support – one of the most important parts of success is finding and keeping good employees. This post provides specific steps that companies can take to make sure good employees want to stick around and uses examples of how Intercom does things to illustrate how the recommended process works and why it's valuable.
Why Your Privacy Ecosystem is Crucial in the Age of GDPR

This post addresses head on the biggest issue many tech companies are worried about right now: GDPR legislation. It provides useful advice on how to approach your own product and those it integrates with in order to better protect your customers' privacy and stay on the right side of GDPR.
HelpScout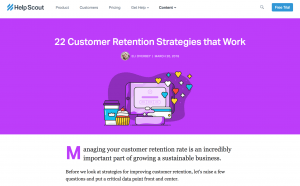 To promote their customer support software, the HelpScout blog provides a lot of information on providing great customer service, along with posts that more generally address how to run a business well. They regularly publish fairly long posts that include helpful tips coupled with examples that help illustrate the tips.
For an idea of what their posts often look like, here are a couple of good ones to read:
22 Customer Retention Strategies that Work

One of the many good reasons to provide great customer service is that it convinces happy customers to keep coming back – which is good for your bottom line. This post provides a lengthy list of good ways to keep customers happy once you've earned that first sale and backs up the recommended strategies with research and statistics.
Writing Support Emails: A Style Guide

Style guides are a valuable tool for businesses that want to be consistent in the way they communicate across different channels, but they're not commonly associated with support emails. This post provides a corrective to that. It gives specific and useful advice on how to structure emails to better provide your customers with what they need and accomplish your support goals. And it uses specific examples to illustrate the suggestions throughout.
Hopefully spending some time with good examples of business blog posts will give you the inspiration you need to get fired up writing for your own blog. Even though blogging requires a lot of work, it really can be worth it if you keep up with it and make sure you provide great blog posts that are helpful to your audience.
If you're struggling with staying on top of all the writing that a blog requires, it's ok to ask for help. Writing blog posts for businesses is a big part of what I do. I can take some of the load off for you. Just contact me to see if we might be a good fit.
*While I think all the blogs I write for are pretty great examples of good business blogging as well, I left them off the list here to avoid personal bias. Lucky for you, that means you can see even more examples of good business blogging over on my writing samples page. Enjoy.