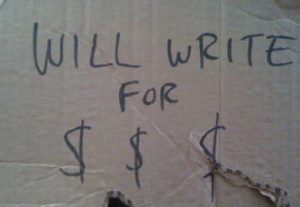 There's been a lot of conversation online recently about the typical practices surrounding how for-profit publications pay writers, or whether they do at all. Prompted by the correspondence Nate Thayer published between him and an Atlantic editor, after he was asked to let them publish his work for free, many writers and editors have spoken up to weigh in on the subject, including Ta-Nehisi Coates over at the Atlantic, and a large group of writers and editors at the Awl.
As a freelance writer, I've followed the conversation with fascination. Sometimes to the slight detriment of my own productivity (did you see the length of that Awl discussion?). It's not a new discussion, but as with many heated topics, all that was required was the catalyst of one angry writer making a stink, and many others followed to weigh in with their opinion.
So, because I'm sure the internet is clamoring for one more voice on the subject, here's mine.
Whether or not writers should be paid for their work depends on the intent of the work.
Work
Obviously I need to get paid for my time and work, or I can't make a living and would need to go back to working for someone else. I very much prefer freelance work to the alternative, so this is an important consideration. If I'm writing for a business or a for-profit publication, there shouldn't be a question of payment. The content provided is valuable and serves a profitable purpose.
Almost any work I do that will help to promote another company or publication, I expect to get paid for.
Marketing
Here's where the almost comes in: in order to be successful as a freelance writer, marketing myself plays an important role in the equation. Many freelance writers produce content for self-promotion for free, whether that content is published on a personal blog, their own website, or as a guest post or article in an industry publication that will bring it to a larger audience.
This is the tricky line of exposure. How do you measure whether the publication of your work is doing more to promote the publication in question (in which case you should be paid) and when it does more to promote your own brand (in which case it serves as marketing and might be worth doing for free, or a lower rate than usual).
Love
There's an amazing series on the Hairpin called Scandals of Classic Hollywood. As I understand it, these stories, which are often lengthy and always include a number of photographs that surely take some time to gather, are written for free. They are also wildly popular on the site.
Why would someone put that much time into something without the promise of a profit? It's clear that the writer, Anne Helen Peterson, loves the subject matter she writers about. It's worth noting, she also recently published a book on the subject that many of her Hairpin readers rushed to buy, but my hunch is that she didn't start the series a couple of years ago as a long-term marketing project for a book that hadn't been written yet (although if she did, that's brilliant marketing).
If a writer chooses to do some writing to help a non-profit she cares about with fundraising, or to raise awareness of an issue that's of special importance to her, or for the fun of analyzing a good tv show – then there's a drive to do the work that has little to do with profit.
So, that's it. If you ask a professional writer to write for free, unless doing so achieves them a specific marketing goal, or it's a piece about something they love and would likely write about anyways, don't be surprised if you get an offended response like Thayer's.
Unless you're quick to offer whatever you do for a living for free to any asker, you should be sympathetic to their position.