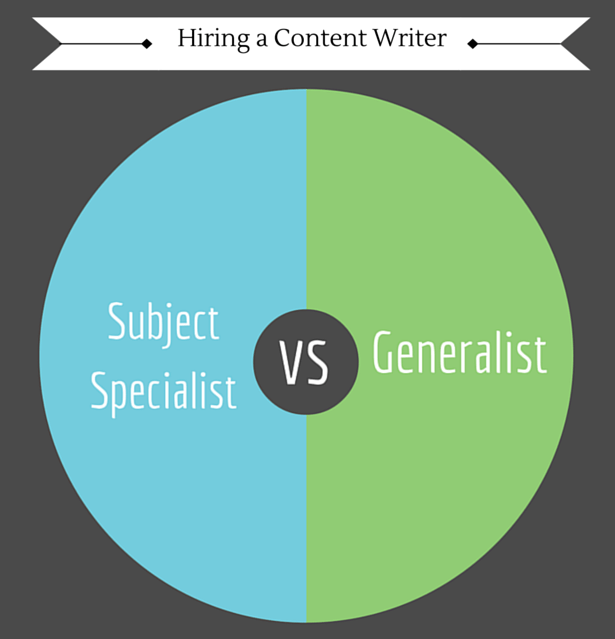 Anyone that thought content marketing was a fad a few years ago is scrambling to catch up now. Businesses working to ramp up their content marketing efforts will inevitably need to hire someone for writing help, whether a full-time employee or a freelance content writer. Whichever route you take, you'll find yourself faced with an important question: should you hire someone that's an expert in your industry, or focus more on writing experience?
If you can find someone that has both, then you've hit the jackpot. But you may have a hard time finding that person, or find that once you do they're either out of your price range or fully booked up.
If you do have to choose, which route should you take?
The Pros of Hiring a Content Writer That's a Subject Specialist
When your hire someone who already has experience in your space, you'll face less of a learning curve in getting them up to speed on the industry and audience.
They're probably already following the top publications and blogs in your industry and will therefore have an easier time spotting trends and recognizing newsworthy topics than someone new to the space. They're also likely to already have valuable contacts in your industry they can use as sources or contact about collaborative opportunities to strengthen your content and promotions.
And you know they're interested in the subject. Someone who's bored by what they're writing about won't be as likely to deliver good work as someone who actively cares about the industry or topic area.
The Pros of Hiring a Content Writer That's a Generalist
If you find a content writer that's written on a wide range of subjects, it doesn't mean they're not an expert on anything, it can mean they're an expert at being a content writer. Most of the best content writers know how to dig in and do the research to learn about whatever topic they're covering.
Those research skills are crucial to being a good writer at every stage in the process – even subject specialists need to know how to do research in order to produce quality content – generalists simply put them into use in overdrive in the first few months of working with a client in a new space. While a generalist content writer will never gain the level of expertise in a subject that, say, someone with a PhD or 10 years of experience would have, you'd be surprised at how quickly a good researcher can get up to speed on the main knowledge and topics needed to write content on the subject.
In addition, while a generalist content writer may be learning about your industry from scratch, they'll likely already come to you with knowledge of writing in ways that are optimized for SEO and well formatted for the web, and come equipped with the adaptability required to learn about new subjects and audiences as they go. That adaptability also lends itself to staying on top of and responding to factors that shape trends in content marketing, like updates to the Google algorithm or new technologies that come onto the scene.
And sometimes a content writer that's not a subject specialist will still have some experience or familiarity with the subject you need. Everyone's got friends and family members that do different types of work than they do, and everyone has interests and knowledge that go beyond the things they do at work. Maybe a candidate has no clips related to elementary education, but it turns out their best friend is a 2nd-grade teacher so they have constant access to insights they wouldn't get from a google search. You'd have to contact them first to find that out.
What to Look for in a Generalist Content Writer
Now that I've spent several paragraphs telling you all the great skills and knowledge a generalist content writer could have, I have to clarify that being a generalist doesn't necessarily mean a content writer will be good at all those things. You have to do a little work yourself to figure out if a content writer you're considering checks all the important boxes.
For a generalist to be a good content writer, they need to be:
How do you find out if someone you want to hire is all those things? To start, check their writing samples. You can get a feel for how much research goes into their work and how well they seem to know the various subjects they tackle.
Pay attention to the way they format things. Are their blog posts long lumps of text, or do they use ample white space and headings to make skimming easier? Do they turn lists into bullet points and link to relevant sources?
Finally, have an interview (over the phone is usually good enough). On your call, do they ask good questions? Do they pay attention to your answers and seem to get what you're looking for? Ask them about their process and how they work on understanding the audiences they write for.
More Important: Find a Writer That's a Good Fit
I'm writing about the question of subject specialist vs. generalist because it's one that comes up a lot, but personally I don't think it's the right question. You should focus on finding someone that's not only skilled as a content writer, but specifically a good fit for the way you work.
To do that, you first need to question yourself about what your work habits and preferences are:
Do you typically prefer to communicate by email or over the phone?
Do you usually plan things out well in advance (a month or more), or do you commonly need last-minute work?
Do you treat deadlines as set in stone, or are you ok with some flexibility?
Do you want someone that you can turn to for more than one type of work? For example, do you want someone who will run your social media profiles as well as write blog posts?
Do you want someone who brings their own strong voice to the work, or are you looking for a skilled ghostwriter who can write in the style of your executives?
If you're a fly-by-your-seat kind of person and you hire a content writer that insists on a clear schedule in advance, then you're going to have problems. If you prefer all your communication to be over the phone and you hire a writer who considers calls unproductive and insists on email, then you're going to have problems.
Many potential problems you could have with a content writer can be avoided if you have a clear idea of what you're looking for in advance and seek out someone that meets those needs. If they're a good writer and you can establish a positive business relationship that works for both of you, a lot of the rest can be learned as you go.