Since the term started kicking around a few years back, content marketing has grown in popularity every year. For those of us in the industry, that's good news in the sense of ensuring our work is in demand. But with popularity comes increased competition, and doing content marketing well means facing new and increasingly sophisticated challenges from year to year.
Each year a few different sources release information on the top challenges marketing firms and businesses say they face when it comes to content marketing. A lot of what comes up in these surveys comes down to the five challenges listed below, each of which can be solved with the right approach.
Challenge: Being strategic in your content marketing.
One of the most obvious findings in the Content Marketing Institute's surveys each year is that businesses with a strategy get more out of their content marketing than those just trying to figure it out as they go.
A strategy helps you connect the dots between the different channels and types of content you're creating and make sure the work you put into content marketing actually pays off. Without one, you're more likely to put a lot of effort into putting content out there that no one sees or engages with.
Solution: Stop everything else you're doing and work on your strategy.
If you don't have a content strategy yet, get on that right now. If you do, the beginning of the year is a good time to re-visit and evaluate it to see if you can make it better. If this isn't something you know how to tackle on your own, hire someone who does. It's too important to skip entirely.
Challenge: Scaling your content strategy to your resources.
This is arguably harder than creating the strategy. It's often easier to think of a long list of things you should be doing than it is to actually, you know, do those things. A lot of content marketing is harder and more time consuming than people expect at first and if you overshoot, you're more likely not to follow through on your plans or to be sloppy with them.
Solution: Build in some flexibility.
A content strategy isn't a one and done deal. You may find you need to shift your expectations based on what your team can pull off or your budget can handle.
That's ok. Better to slow down your content production and create the kind of stuff that will really shine than rush it and put out a lot of stuff no one will care about.
Challenge: Creating content that people care about.
I personally think this challenge and the next one are the two most difficult on the list. Everything I said in the introduction about competition is working against you here. How do you make your emails the ones that people open and your business blog the one that people click through to?
Your content doesn't just have to be good it has to be relevant to what your audience needs and wants to know.
Solution: Talk to your audience and measure results.

You've got to go to the source. Talk to your customers or anyone you know that falls into the profile of what your target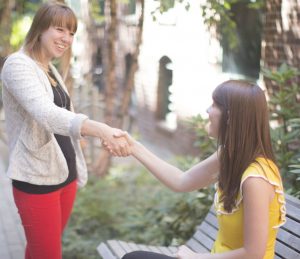 customers look like and find out:
What they're thinking about
What they're worried about
What questions and challenges they have
What other blogs and media outlets they regularly check out
How they find the content they consume
How and where they read it (Are they on their phone on the go? Sitting in their office at a desktop?)
What kind of topics they find the most interesting and valuable
Anything else you can get them to tell. The more you know the better.
For introverts like me, this part can be kind of awkward. But you know who's probably talking to your audience every day? Sales people and customer service representatives. See if you can't get them in on it to help you out with this step.
This gives you your start, but part two of tackling this challenge is paying attention to your analytics. What content pieces are getting read the most, shared the most, and commented on the most? Which are driving people to take further action on your site or inspiring return visits? Which are bringing new, relevant traffic to the site?
Track that information, check it regularly, and use it to refine your content strategy as you go.
Challenge: Promoting your content.
You can't just put content out there and assume people will find it. Sometimes you'll hear people suggest that works – "if it's good enough, they will come!" I don't buy it.
There's too much stuff out there competing for their attention. You've got to put some effort into making sure your work gets in front of the people you want to see it and that they deem it worth their time.
Solution: Make this a crucial part of your strategy.
You've got to start thinking about this at the strategy stage. It takes time and it takes a plan. Identify the influencers and top blogs in your industry. Make a presence on social media (not every social media platform in existence, just the ones you know your people are at). Interact with people in your target audience and influencer list and become regular about it.
Creating the right relationships is a huge part of content promotion.
You should also consider paying for content promotion on social media channels and Google. If you're paying for your content (and you are, even if only in time), it might be worth it to make sure your content is actually being seen. Paid promotion also usually comes with some good analytics that give you a better feel for what's working and what people are interested in.
Challenge: Finding good people who get content marketing.
While this challenge wasn't super high on the list, it's one that's growing for marketers. As content needs increase, so does the challenge of finding good people to help you meet those needs.
Solution: Talk to me!
Ok, I'm half joking. I'm a pretty great content writer, but by no means skilled at the many other things needed to be good at content marketing. That said, I do try to know as many people good at those other things as possible so I can point businesses in the right direction for what they need. And if I don't already know someone skilled at the type of work you're looking for, I don't mind having an excuse to find that someone so I know them for future reference.
There are some other solutions that might come in handy for this one though:
Referrals and networking ­– keep up with any local marketing and content groups and don't hesitate to ask the people you meet there for recommendations.
LinkedIn and Google searches – seems pretty obvious, but the people who rise to the top in searches on these networks are probably pretty good at what they do (although that means they likely don't come cheap).
Invest in training for your staff – help the people you already have become more skilled at content marketing. Saves you a search and improves the employee relationship at the same time since it shows you care about investing in their career.
2015 looks likely to be a good year in the evolution of content marketing. Marketers just keep getting better at figuring out what works and exploring new creative ideas. As content marketing gets more sophisticated, you have to keep up if you want it to pay off for you. A lot of that just comes down to being thoughtful about how you approach it and putting in the work.