As if creating high-quality content wasn't already hard enough, content marketing doesn't work anymore without a plan for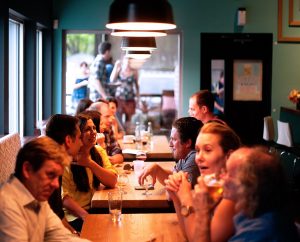 promotion. There's simply too much content out there for you to trust that people will find yours if you don't put some real effort into making their discovery of it easy.
Content promotion has become one of the most important components in content marketing success. But figuring out how to do it well is tricky.
You've got a few obvious places you can start:
You can make sure your blog posts are optimized for SEO.
You can push out your content on social media.
You can send your new content to people on your email list
You can pay for ads on social media or Google to get your content in front of new people.
All of those are useful and important tactics to help guide people to your content, but a lot of the most effective long-term methods for content promotion have one thing in common: they're about building and leveraging relationships.
People who know and trust you are more likely to share your content.
In content, as in life, strangers are far less likely to care about or believe what you have to say than people that have had some past, positive experience with you. If anything, gaining trust is harder for a brand than a human stranger, since people know you have a (not so ulterior) motive: you want to sell something.
One of the most powerful ways to cut through that initial trust barrier is social proof. Your potential customers will always believe what a third party has to say about you before they'll take your brand's word on the subject. And that's not just true when it comes to buying from you, it also influences how likely they are to click through to your content or care about what you have to say within it.
Think about it: if someone you follow on social media shares content by a brand you've never heard of with a resounding recommendation to check it out, how much more likely are you to click than if you see the same link in an ad?
For those people to share your content to begin with, they already have to have some relationship with your brand. Maybe they saw another friend share it, maybe they're already a customer, or maybe they've been following your blog for a while – whatever the reason, their decision to share shows a level of trust that immediately makes others more likely to check your content out and consider your brand trustworthy.
Promoting others helps them self-promote.
The value of relationships in content marketing is behind the growth in influencer marketing. Mentioning relevant influencers in your content provides a reciprocal benefit. It makes them look good to be identified as an expert and it strengthens your content to have the insights of an influencer included.
More important, in terms of the theme of this post, when you include a quote or reference to an influencer in a way that makes them look good, the chances of them sharing your post with their network increases. It's not guaranteed they will, but when promoting your content also means promoting themselves as well, a lot of people do.
If the person you highlight has a large audience of people that trust them, seeing that you have a relationship with them makes that large audience more prone to check you out and trust you.
How to Build Connections
As long as you're a stranger, attempts to get an influencer or anyone else to pay attention to your content – even if it mentions them – will be an uphill battle. You have to put in the work of building those connections first.
While there are loads of ways to connect with people in the internet age, a few you might consider taking advantage of are:
Attend industry conferences. Conferences aren't just good for checking out vendors and attending educational sessions, they're one of the best opportunities out there for meeting other people working in your space. Go. Strike up conversations. Introduce yourself to anyone whose presentation impresses you. You'll come away from the conferences with the beginnings of lots of new relationships.
Start doing more local networking. You can't be at conferences all the time, but you can tap into the local community through networking events. Look into the relevant organizations and meetups available in your city, and get out there and start meeting people.
Conduct interviews. Interviews often strengthen content because you're able to use the insights of other experts to lend weight to what you're saying. Many people are willing to set up expert interviews because it gives them a chance to show their knowledge and reach a new audience as well. Once you've interviewed someone and used the knowledge they provided in your content, they now have a relationship to your brand.
Interact on social media. Reply to people's tweets or Facebook posts. Share their content. Participate in Twitter chats or LinkedIn groups. Social media has vastly simplified the process of making connections with people in your industry. Use it.
Leave comments. A lot of people and businesses with blogs actually read and reply to comments. Leaving a thoughtful comment is a good way to get on their radar, especially if you do it more than once and interact with them in other ways on this list in the mean time.
Pitch guest posts. Guest posts can both be a way to promote your own brand (although not too directly, usually) and a way to create or solidify a relationship with another person or brand. If you do pitch a guest post, make sure you pay attention to any guidelines the blog has and pitch an idea that's relevant to the blog's audience. If you send a tone deaf pitch that shows you didn't do basic research first, it will backfire.
How to Use Connections for Content Promotion
Once you've made enough of a connection, you'll have a much easier time asking  people to help you out without crossing any lines.
As much as possible, look for opportunities to suggest mutually beneficial modes of promotion. That could mean hosting a webinar together, partnering to complete a research study with both your audiences combined, or featuring them as an expert in your blog posts.
Even once a relationship is established, aim to help them with promotion and engagement at least as much as you ask them to do the same for you.   It's gotta go both ways or they'll have little reason to continue the relationship and view it fondly.
Making connections has a tendency to pay off in ways beyond boosting your brand. You might make some real friends in the process. You'll meet people you can learn from who have real insights to add to your life and your marketing efforts. Building relationships shouldn't be all about content promotion, but it's one of the best paths you can take to get there.